Mossel Bay is a harbour town on the Garden Route in South Africa's Western Cape Province. It is well-known for the pristine wide Blue Flag beaches and the 19th-century Cape St. Blaize Lighthouse, which offers unrivalled views of the bay.
The Bartolomeu Dias Museum Complex includes the Maritime Museum, the Shell Museum and botanical gardens. The Post Office Tree, a milkwood tree in the complex, has been used as a mail collection point since the 1500s.
Mossel Bay's climate is mild throughout the year as the town is situated in the area where the winter rainfall and all-year rainfall regions of the Western Cape Province meet.
QUICK FACTS:
Area: 42,2 km²
Province: Western Cape
Population: 59 031 (2011)
Area code: 044
History
Although it is today best known as the place at which the first Europeans landed on South African soil (Bartolomeu Dias and his crew arrived on 3 February 1488), Mossel Bay's human history can, as local archaeological deposits have revealed, be traced back more than 164,000 years.
The modern history of Mossel Bay began on 3 February 1488, when the Portuguese explorer Bartolomeu Dias landed with his men at a point close to the site of the modern-day Dias Museum Complex.[2] Here they found a spring from which to replenish their water supplies. Dias had been appointed to search for a trading route to India by King John II of Portugal, and, without realising it, actually rounded the Cape of Good Hope before landing at Mossel Bay – which he named Angra dos Vaqueiros (The Bay of Cowherds). Dias is also credited with having given the Cape the name Cabo das Tormentas (the 'Cape of Storms'), although King John II later changed this to Cabo da Boa Esperança (the Cape of Good Hope).
Dias' excursion ashore ended hastily when the local people chased him off in a hail of stones.
By the time the Portuguese explorer Vasco da Gama reached the area in 1497, the Bay had been marked on the maps as Aguada de São Brás, (the Watering Place of St Blaize - whose feast is celebrated on 3 February).
Da Gama bartered successfully for cattle with the local Khoi people in what is generally regarded as the first commercial transaction between Europeans and the indigenous people of South Africa.
Things to do in Mossel Bay
There are many activities to choose from in and around Mossel Bay, from water sport, deep sea fishing, speed boats, sailing trips to land activities such as sand boarding, quad biking and wine tasting, not to mention up in the air with helicopter rides and sky diving.
Mossel bay does not disappoint when it comes to keeping the whole family busy.
We have mentioned our favourites below. For more activities go to: www.visitmosselbay.co.za
Take a boat trip to see "Robbe Eiland" with Romonza Boat Trips.
Seal Island, Sunset and Whale Watching Cruises
Address: Mossel Bay harbor
Telephone: 044 690 3101
Email: romonza@mweb.co.za
Visit the longest over-ocean Zipline in the world.
At 1100 meters (3608 feet) long, you'll have time to take in the scenery.
You zipline over the ocean at speeds of 80km/h (or 50MPH) for those in America) and you can enjoy unparalleled views of the cliffs, ocean and sea life.
Telephone: +2768 022 9183
Email: info@mosselbayzipline.co.za
White Shark Africa
Experience the Great White Shark in its natural environment above or under water.
7 Church St Mossel Bay 6500 South Africa
Telephone: +27 082 455 2438
Email: info@whitesharkafrica.com
Hart and Bosch Village
Family Friendly Venue
Tourism attractions, train, outdoor cinema, events, paddle courts, onsite restaurant with on/off liquor licence, play area for kids, stall vendors.
Address: R102 Mossel Bay South Africa
Telephone: 002781 444 3410
Email: info@hartenbosch.co.za
Botlierskop Game Reserve
This gracious family-owned and privately-operated game reserve is malaria-free and home to four of the Big 5 (lion, elephant, buffalo and rhino) as well as a host of antelope, including rare black impala, zebra, giraffe, wildebeest, hippo and more. Botlierskop has a range of activities from safari game drives, horseback safaris, pampering spa therapies, restaurant options, children's activities, spacious decks and swimming pools - there truly is something for everyone.
Address: R102 Mossel Bay South Africa
Telephone:+27(0) 44 333 0021
Email: info@botlierskop.co.za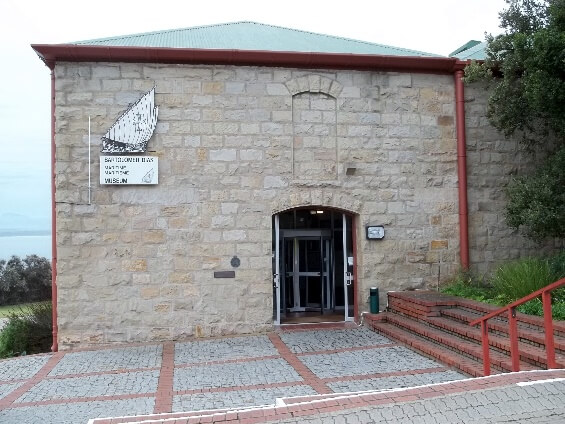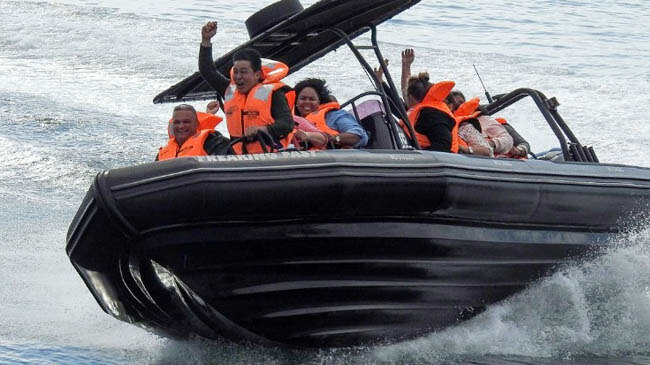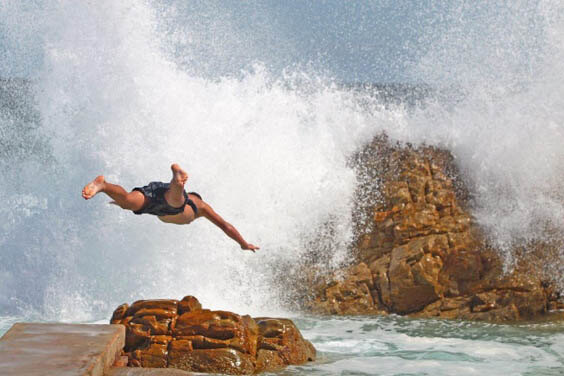 Where to eat
Apart from all the large number of different activities to choose from in and around Mossel Bay, we have a fast selection of eateries, both special and unique.
From award winning wine farms to family friendly restaurants and unique cuisine that falls out of the norm of burgers and pizzas.
We have selected the ones we like. For more to choose from visit: www.visitmosselbay.co.za/mossel-bay-restaurants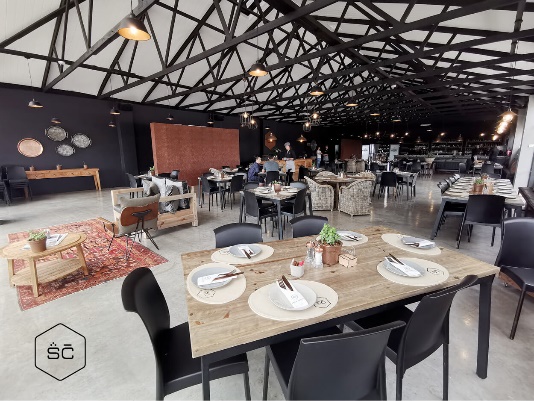 At Salt & Copper they are more than just a restaurant. You can go and spend a day with the entire family.
Along with their exceptional fresh meals, they offer a beautiful setting and fun activities for the entire family.
For the kids they offer a designated play area, and while your kids are enjoying their playtime you have the chance to see Harmony's distilling process first hand at the Copper Lounge.
You can also enjoy a gin tasting session with friends, order from their variety of craft spirits expertly served by capable staff and learn more about the distilling process.
Address: R102 Mossel Bay, South Africa. Telephone: 002744 150 0054
Carola Ann's
At Carola Ann's the best seasonal ingredients are sourced locally and skilfully prepared on the premises.
Breakfast and lunch are served with a Middle Eastern, Mediterranean twist. They also do catering for special events.

Opening Hours:
Monday - Friday: 08:00 - 16:30
Saturday: 08:00 - 13:30
Address: 38 Marsh Street, Mossel Bay 6500
Telephone: 064 154 6393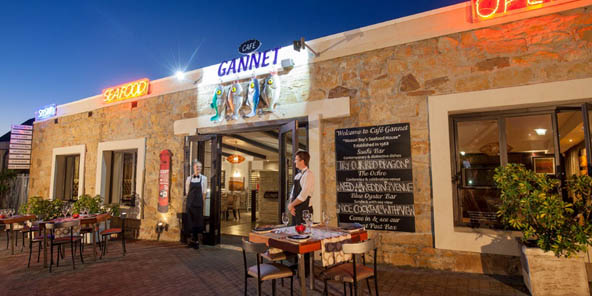 Location, location, location, is the big three in finding the right place to have the perfect meal in any part of the universe.
The Café Gannet Restaurant and Blue Oyster Bar in Mossel Bay is just such a place and a must for those visiting the Southern Cape Coast and Garden Route. Sitting in the sun-kissed courtyard of the culinary benchmark Café Gannet Restaurant, situated in the historical part of downtown Mossel Bay, you may well think you are somewhere in the Mediterranean. Celebrating thirty years in existence, Café Gannet is housed in the historical Mossel Bay Ochre stores, and literally right next door to the expansive Bartholomeu Dias Maritime Museum, Old Granary and gardens, housing a life-size model of the wooden Caravel, ancient Milkwood, established in 1500 by seafarer Joao da Nova in 1500.
Address: 1 Market St, Mossel Bay Central, Mossel Bay, 6500, South Africa
Telephone: +27 (0) 44 691 1885
Delfino's Seaside Restaurant
Eating and drinking well in South Africa is a national pastime, so eat, drink and be merry as Delfino's give you a taste of a country that really loves its food and drinks with a passion! Their fantastic food, great service and seaside location will spoil you and bring you back for more! Coffee lovers - whether you prefer espresso, cappuccino, latte's or other decadent hot and cold drinks, they have got them all! Their menu is designed to cater for a great variety of tastes and appetites.
Address: Point Road, The Point, Mossel Bay
Telephone: +27 (0) 44 690 5247
Email: info@delfinos.co.za
Where to stay
1 Point Village Guest House
044 690 7792

Bay Vista Guesthouse
044 690 3138

Lighthouse Keeper Self-Catering
044 690 3156

Point Village Hotel
044 690 3156

Point Village Self Catering Flats
044 690 3156

Sandstone Manor
044 690 3138
Shark Shack Backpackers
044 690 3138

Villa Nova Backpackers
082 682 8747

Oceans Hotel
044 691 1325

Diaz Hotel
044 692 8400

Point Caravan Resort
044 690 3501

Amenities
Mossel Bay Mall Shopping Centre
Located on Louis Fourie Road,the Centre has 2 entrances, free parking and a variety of shops. Mossel Bay Mall is Mossel Bay's friendliest, most convenient shopping centre, and is situated in the heart of Mossel Bay central. It is easily accessible from the N2 highway. The street access grants easy entrance to and from approximately 700 open-air parkings. The Mall's anchor tenants are Checkers, Woolworths, Foodlover's Market, Dischem and Clicks. A total of 55 national and independent retailers make up the balance of an exiting range of shops.
Langeberg Mall – It's a way of life
With clear blue skies and surrounding tranquillity you can do your daily shopping in a clean, safe and healthy open environment. Centre management is based on site and aim to please and delight and work according to a clear set of values and goals in trying to delight our customers on a daily basis.

Trading Hours
Monday – Friday: 09h00 to 18h00
Saturday: 09h00 to 17h00
Sunday: 09h00 to 14h00
Public Holidays:
09h00 to 14h00
www.langebergmallsa.co.za

Hartenbos Seefront
As part of our commitment to making sure that you have the ultimate holiday at Hartenbos Seefront, we have created a retail centre with a selection of shops, restaurants and bars for your convenience.
We offer everything from grocery shopping and banking to wining and dining at restaurants that will satisfy any cravings from coffee to steak and seafood.
OPENING TIMES
· All year excluding Holiday Seasons
Mondays to Saturdays (incl. Public Holidays): 09H00 to 18H00
Sundays: 09H00 to 15H00
· Holiday Seasons
1 Dec to 15 Dec & Easter Holidays: 09H00 to 19H00
16 Dec to 4 Jan: 09H00 tot 21H00

TAKE AWAYS
· All Year excluding Holiday Seasons
Mondays to Sundays (incl. Public Holidays): 11H00 to 20H00
· Holiday Seasons
1 Dec to 4 Jan: 09H00 to 22H00
Easter Holidays: 09H00 to 21H00

ALL RESTAURANTS
· All Year excluding Holiday Seasons
Mondays to Sundays (incl. Public Holidays): 11H00 to 22H30
hartenbos-seefront.co.za/en/shops-restaurants/